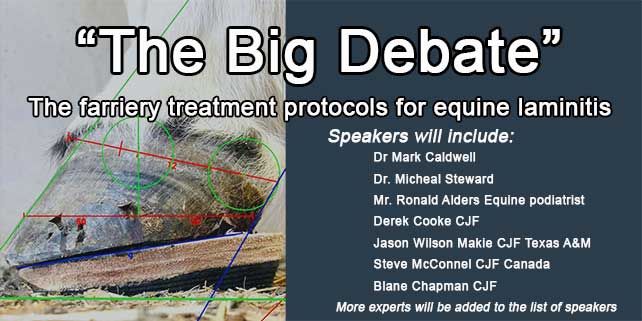 "The Big Debate" – The Farriery Treatment Protocols for Equine Laminitis.
August 11 @ 6:00 pm
-
9:00 pm
We have gathered some of the worlds foremost clinicians, vets, farriers and Hoofcare professionals together to discuss the selection criteria, methodology of application, efficacy and prognosis of various mechanically based podiatry treatments for this debilitating and life threatening disease.
The speakers will include:-
Dr. Micheal Steward – (inventor of the clog system)
Mr. Ronald Alders – Equine podiatrist
Derrick Cooke CJF – inventor of Desmosphyrine as a treatment modality for acute laminitis
Jason Wilson Makie CJF Texas A&M
Steve McConnel CJF Canada
Blane Chapman CJF – Renowned 2nd Generation Farrier with years of experience in treating catastrophic lamanitic cases.
More experts will be added to the list of speakers – this will be a once in a generation opportunity to seek out answers to questions surrounding the treatment of catastrophic lamanitis.
A few of  the questions on the agenda:
When should mechanical treatment be initiated?
How do I decide which methodology?
What are the biomechanical considerations in treatment?
How can we determine which cases bro attempt treatment?
Why do some cases appear to respond quickly then deteriorate?
How should a case be best managed post initial treatment?
What is meant by the term de- rotate?
Is heel elevation counter productive?
How can we determine DDFT involvement and how should we manage it?
Should we strive to achieve static hoof balance proportions such as vertical heel:toe height ratio from the onset of treatment?
When and why should we perform horizontal grooving or DHW resection techniques and what are the advantages and disadvantages?
If you cannot make these times work for you to join us live – you will still receive the recording and papers etc after the webinar, so you can watch and learn at any time.
Any questions or problems please don't hesitate to email John at [email protected]
You can send in your Q&A questions for the speakers prior to the same email.