Are Set Toes (Rocker Toes) The Most Underused Tool in Our Box?
with Dorian Madin DWCF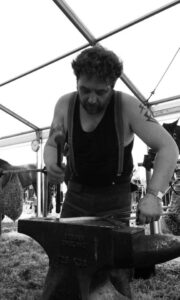 The foot can be described as an oblique conical, meaning it grows forwards and outwards, because we trim parallel to the sole plane we inadvertently trim extra length into the toe (in relationship to the centre of rotation of the coffin joint) in order to counteract this extra length the shoe is very often brought back under the toe of the foot, or the hoof wall is rasped back beyond parallel, the unintended consequence of these actions being that the horn tubuals become none weight barring.
As the toe of the foot takes up approximately 1/3 of the surface area of the ground barring surface of the hoof wall, this unloading of the toe results it the other 2/3 being over loaded.
As horn responds to pressure (wolfs law) this results in the horn tubles in the to becoming weakened.
Book Your Ticket Today!
Don't miss this event
Tickets

Dynamically as breakover is initiated the point of force moves towards the lateral toe, the shoe creates a counter lever and the horn tubals in the front 3rd of the foot are bent forwards, creating a shear force, (horn tubuals whilst being excellent at coping with compressive forces are not very good at dealing with shear force) this bending forward of the toe results in the palmar aspect of the foot being pulled forward and distorted the sole flattens out and this can cause the shoe to be separated from the heel as seen in the video.
Much like when jumping up steel unless opposing force vectors are created the compression of the steel is not as controlled resulting is undesirable distortion of the section, the same can be said for the horn tubuals. Adding a set toe oriantates the force vector so the horn tubles are loaded in their direction of growth leading to their most efficient use of force dissipation.
Unsure about your time zone? We will be starting on 25th August 2022 at…
10 am West Coast USA (PST)
11am Mountain Standard USA (MST)
12 noon Central USA (CST)
1pm East Coast USA (EST)
3pm Brazil (BRT)
6pm UK (GMT)
7pm Central Europe (CET)
8pm Eastern Europe (EET)
8pm South Africa (SAST)
10pm Dubai (GST)
11.30pm India (IST)
2am + 1 Singapore (SGT) – +1
2am + 1 Western Australia (AWST)
5am +1Eastern Australia (AET) –
7am +1 New Zealand (NZDT) –
But if you cannot make these times work for you to join us live – you will still receive the recording and papers etc after the webinar, so you can watch and learn at any time.
Any questions or problems please don't hesitate to email John at john@scientifichorseshoeing.co.uk
You can send in your Q&A questions for the speakers prior to the same email.
Share on facebook
Facebook
Share on linkedin
LinkedIn
Share on email
Email