Diagnostic Imagery for Farriers and Hoof Care Professionals
with Dr Sue Dyson MA Vet MB PhD DEO DipECVSMR
Lameness is one of the most important clinical abnormalities in horses – both in frequency and in economic impact. Radiography is often the first method of diagnostic imaging used in the evaluation of lameness.
Because of the technological evolution of digital radiographic imaging during the last decade the in the field use of this form of diagnostic imaging has widely increased. For this reason it is now very common for farriers to request x-rays to measure themselves in everyday practice.
Book Your Ticket Today!
Don't miss this event
Tickets

Whilst the farrier is not allowed to expose a diagnostic sentence but is supposed to be capable in reading and understanding x-rays in order to understand shoeing prescriptions and their reasons as well as to understand their achieved or not achieved result.
Detailed radiographic evaluation of the horse's foot is very useful in preplanning and management of trimming and shoeing of a horse's foot and in the prevention of lameness. Horse's exhibiting poor foot conformation, imbalance, or abnormal patterns of growth can be clues to impending foot disease and lameness. Radiographic evaluation, alongside a thorough clinical evaluation supported by in depth anatomical knowledge, of a horse's foot gives tremendous insight into the relationship between the structures within the foot and between the foot and distal limb.
To achieve the goals of ameliorating lameness by the restoration of biomechanical efficiency farriers need to adopt a systematic approach when assessing radiographs. This approach must be based on a comparative analysis between that which is currently considered normal and the images from a planned radiographic study of the foot.
For this reason it is essential that farriers are familiar with, not only the range of radiographic views, but radiographic identification of anatomical structures and what is considered normal for any particular projected image. This brief chapter aims to be an instrument for the farrier in reading x-rays, in order to become capable to read them and use them relatively to farriery purposes.
The most commonly radiographed areas encountered by farriers are Feet, Fetlocks (metacarpo/tarso phalangeal joints), Carpi, and Tarsi & Stifles.
Webinar Map:
1. Fundamental Concepts.
2. Give the right value to the information you get.
3. Reading Protocol-System.
4. Examples.
About our Key Note Speaker;
Dr Sue Dyson MA Vet MB PhD DEO DipECVSMR
Royal College of Veterinary Surgeons Specialist in Equine Orthopaedics
European Specialist in Veterinary Sports Medicine and Rehabilitation
Associate of the European College of Veterinary Diagnostic Imaging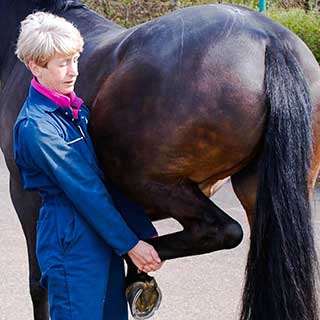 Sue qualified from the University of Cambridge in 1980. Following award of a Thouron Scholarship to the University of Pennsylvania, she completed an Internship in Large Animal Medicine and Surgery at New Bolton Centre. She then spent a year in private equine practice in Pennsylvania, before returning to Great Britain to take a position in clinical orthopaedics in the Centre for Equine Studies of the Animal Health Trust, Newmarket. Sue ran a clinical referral service for lameness and poor performance, attracting clients from all over the United Kingdom, Ireland and continental Europe for 37 years. From 2019 she has worked as an independent consultant. Sue's key interests are improving the diagnosis of lameness and poor performance and maximising the opportunity for horses to fulfil their athletic potential at what ever level.
Sue was awarded a Fellowship of the Royal College of Veterinary Surgeons (RCVS) for a thesis entitled 'The Differential Diagnosis of Shoulder Lameness in the Horse' and the RCVS Diploma in Equine Orthopaedics by examination. She was awarded a PhD by the University of Helsinki and is recognised as a 'Specialist in Equine Orthopaedics' by the Royal College of Veterinary Surgeons. Sue is an Associate of the European College of Veterinary Diagnostic Imaging and a Diplomate of the European College of Veterinary Sports Medicine and Rehabilitation.
Sue is co-editor, with Mike Ross, of Diagnosis and Management of Lameness in the Horse and co-author of Clinical Radiology of the Horse and Equine Scintigraphy. She has published more than 300 papers in peer reviewed journals concerning lameness and diagnostic imaging and has lectured worldwide. Sue is a former President of the British Equine Veterinary Association and is currently veterinary advisor to the Saddle Research Trust and Moorcroft Rehabilitation Centre.
Unsure about your time zone? We will be starting on 7th July at…
10 am West Coast USA (PST)
11am Mountain Standard USA (MST)
12 noon Central USA (CST)
1pm East Coast USA (EST)
3pm Brazil (BRT)
6pm UK (GMT)
7pm Central Europe (CET)
8pm Eastern Europe (EET)
8pm South Africa (SAST)
10pm Dubai (GST)
11.30pm India (IST)
2am + 1 Singapore (SGT) – +1
2am + 1 Western Australia (AWST)
5am +1Eastern Australia (AET) –
7am +1 New Zealand (NZDT) –
But if you cannot make these times work for you to join us live – you will still receive the recording and papers etc after the webinar, so you can watch and learn at any time.
Any questions or problems please don't hesitate to email John at john@scientifichorseshoeing.co.uk
You can send in your Q&A questions for the speakers prior to the same email.
Facebook
LinkedIn
Email