Mr Neil Madden
FWCF Class 1
Neil is an inordinately experienced highly qualified trainer within the farriery profession with over 20 years of experience.
Mr. Madden has been associated with the Army School of Farrier from 1993 and Myerscough College since 2003 as part of the farriery team that established Myerscough Farriery Department as a school of farriery excellence.
As a consummate and accomplished professional farriery lecture, instructor and assessor Mr Madden transferred his high standards of craftsmanship and in-depth knowledge of farriery from the military stream, where he was employed as the senior farriery lecturer and instructor at the Army School of Farriery, to the civilian National Vocational Training/ Diploma of the worshipful company of Farriers (Dip WCF) system.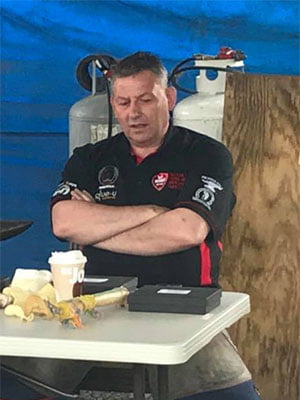 His inclusion as a member of the Military Farriers Examination Board and Worshipful Company of Farriers Examination board highlights fully his in-depth understanding of the necessary standards for each farriery qualification. Including the standard of craftsmanship each student needs to achieve for successive farriery qualifications.
Mr. Madden has been instrumental in delivering the Diploma/NVQ Syllabus. He has lectured, instructed and assessed not only the NVQ level 3 and Dip. WCF but also the higher qualifications, Associate and Fellowship of the Worshipful Company of Farriers, in preparation for examination.
A contracted specialist in his field, as Co- author, Mr. Madden devised, developed, validated and delivered the Foundation Degree in Farriery which is now a recognised route to higher examination next to the Degree course. He also lectured, instructed and assessed technical aspects of the Degree course in Farriery.
Mr Madden has proven to be a superlative trainer for Myerscough College School of Farriery. He has demonstrated over the past 12 years his exceptional capabilities as a lecturer, instructor and assessor within farriery department.
His involvement with the NVQ syllabus/ Work based Diploma sees him as the farriery departments Internal Quality Control Assurer. Working closely with the college lecturers, Mr. Madden is training and developing new and inexperienced lecturers as assessors as well as maintaining an affective assessment team delivering a valid, legitimate and secured level of farriery education at the point of delivery relevant to the development and training of the apprentice.
Mr. Madden is at the pinnacle of his career he is a highly skilled and experienced craftsman and an inordinately experienced farriery trainer, lecturer, instructor and examiner for all levels of Farriery.
C.V.
Previous Post
Farriery Instructor ASF FE/HE 1995-2004
Defence Animal Centre, Melton Mowbray, Leicestershire, England LE13 0GX
School of Farriery Science Myerscough College,
Myerscough College, Bilsborrow, Preston, Lancashire. England. PR3 0RY
Delivering Advanced Farriery Practices Leading towards Associate and Fellowship Examinations, Diploma HE Farriery Course Tutor
Previous Experience
Freelance Farrier, Farriery consultant responsible for routine, therapeutic, surgical and remedial shoeing North of Scotland
Professional Qualifications
Worshipful Company of Farriers, (Oct-1995 – Oct-2001)
Farrier Class II/ Diploma of The Worshipful Company of Farriers October 1995
Farrier Class I/Associate of The Worshipful Company of Farriers October 1999
Fellow of The Worshipful Company of Farriers October 2001
Career Achievements
Member of the Worshipful Company of farriers Examination Board (2002 – present)
British Army Farriery Team (1998, 1999, 2000, 2001, 2002, 2003)
National and International Farriery Competitions between 1999 & 2004 Winning a Silver Medal and Bronze medals. Clinician at number of hands-on Clinics and CPD Courses for Advanced Farriery Techniques on behalf of The Worshipful Company of Farriers between 2001 to 2007.